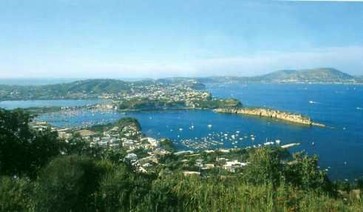 It is not impossible to determine precisely where the ancient "Bauli" rose.
The name derives from the stables -bodulia- Eracle built for the oxen stolen to Gerione. Bauli was a part of Cuma territory, it neither had a urban structure and was nor Autonomy .to Bauli there were a lot of luxurious villas, that from the first century B.C Gave the zone between Lucrino and Capo Miseno a residential aspect.
In Bauli the oldest cistern plan relative to called a private residence has been found Cento Camerelle functional to the orator quinto Ortesio Ortalo's villa. After the civil wars the Baluane villas were not confiscated by the winners.
Ortensio's villa pasted to Antonia minor Marco Antonio's daughter and then to Nerone.
The frequent stay of the princes. Bauli gave impulse to the creation of a ordo o collegium, a corporation of freedmen.
Even in the 4th century Bauli was the place where the nobles had their villas, also Simmaco had its favorite house here.