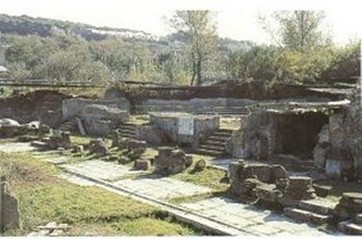 The hill that forms Cuma Acropolis is formed by erupting rocks, it's a rest of anciant crater erased by the sea waters.
Magnificient ruins of the Greek fortification of the V sec. B.C. have come to light in the recent excavation along the north edge and the southern of the lower terrace of the Acropolis.


TEMPLE OF THE LOWER TERRACE OR APOLLO'S TEMPLE

Cuma's hill is composed by two terrace, the lower one is open towards east and encloses the ruins of Apollo's Temple.
Of the oldest temple, dating back to Greek period, only the steriobate stall of tufa remains, but nothing else remains of the elements of the colonnade and of the cell's structures.
It was probably a "peripter" temple built in the ruins of an older temple.
During the Augustan age Apollo's Cuman Temple was completely restructured to be later transformed into a Christian Basilica in the VI - VII century

THE UPPER TERRACE OF APOLLO'S TEMPLE OR GIOVE'S TEMPLE


Giove's Temple is situated on the top of the "Acropolis".
The temple, erosed by the water and wind action, mirrors the different events that have caracterized the the Temples of Cuman Acropolis.
Of the Greek age no architectural elements remain.
The steribate's "stalla" is almost completely hidden by the later Roman and Christian floor; no trace of the cell's and the colonnade's walls are visible.